Today's featured design is a space near and dear to my heart:  my stepdaughter's bedroom makeover!  This bedroom design first took form a few months ago and the big reveal was this week!  Milo and I were so excited to share this posh new space with our oh-so-stylish little lady and now I can't wait to share it with you!  Read on for the details.
The Bedroom Before
When we first moved into our home, Madison's Parisian retreat was anything but.  Outdated beige walls, heavy furniture, and little to no accessories were not inspiring, but Madison and I looked past the previous owners' styling to see a gem of a space waiting to be polished.
Here's what we were working with:
The Bedroom Inspiration
The first change was to update the wall color.  Benjamin Moore's "Revere Pewter" was just the right shade of greige to create a light and airy foundation for a very bold design.
To reflect Madison's fashion-forward personality, I decided on a color palette of black and white with subtle pink and gold accents.
Rose-colored bedding and gold accessories brought in the glam factor, while a bold black and white rug provided contrast.
For the wall art, I incorporated a framed gallery wall set of black and white floral photos.
And of course, there had to be a pop of green! 😉
The Bedroom Design: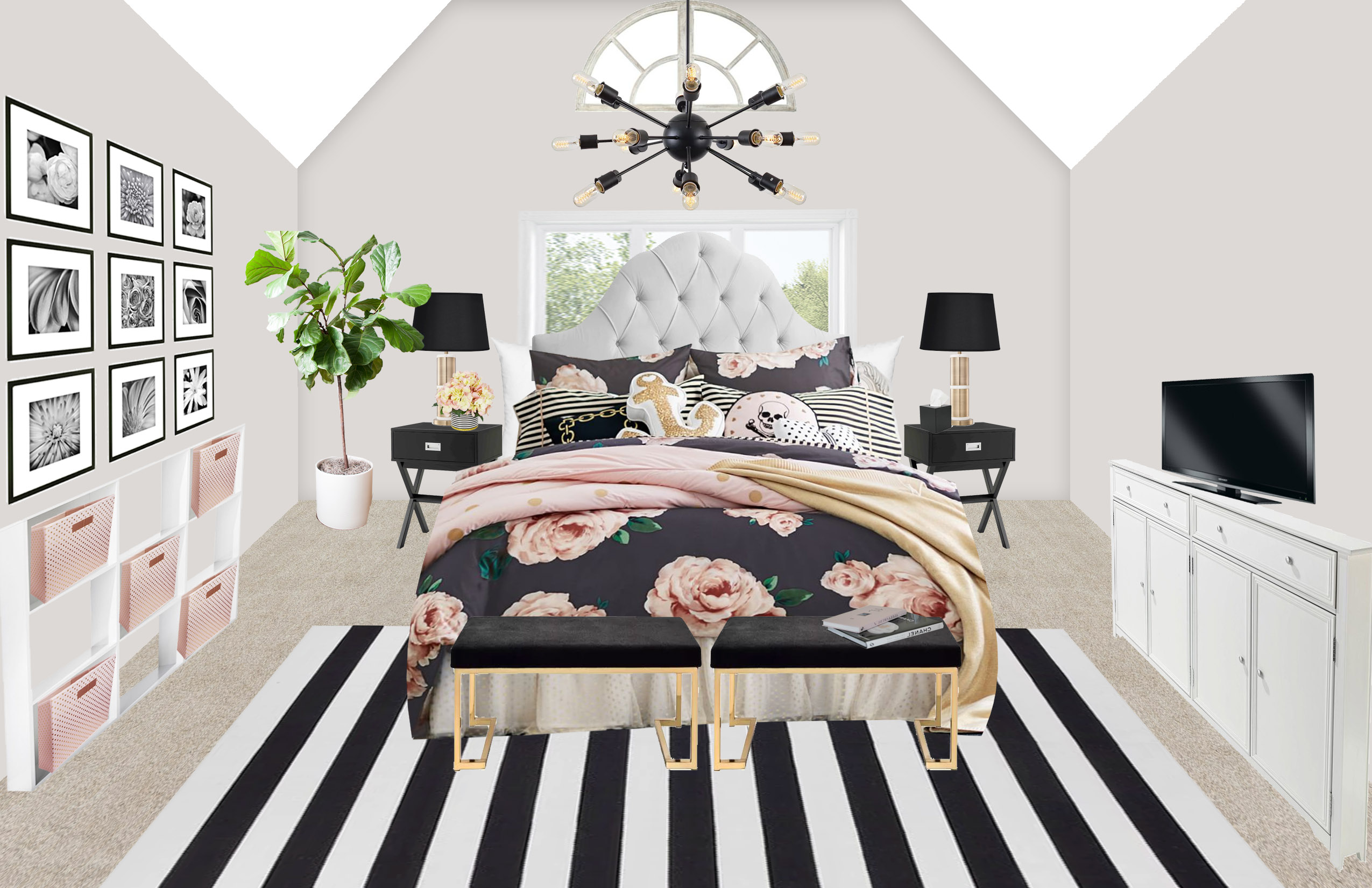 After creating the design, the real work began!  Walls were painted, a new light fixture was installed, and the old furniture was removed.
While it was important for this bedroom design to be beautiful, functionality was also a major priority!  Some of the key features that Madison want/needed in this space included:
Storage space
A TV
A Vanity area for make-up
Cube storage provided the perfect spot for toys, while removing the closet doors created a nook for a small vanity area and "inspiration" wall.  We wall-mounted a TV for easy viewing throughout this space, and added art to the walls.
The Bedroom Reveal
After a multitude of delivery boxes and many hours of work, the design was complete!  Madison is in love with her new space, and I have to say, I don't mind curling up with a good book and cup of tea and pretending I'm in a Parisian cafe here from time to time.  <3
Pro tip:  Always roll out the rug first.  It's much easier to position furniture after the rug has been placed!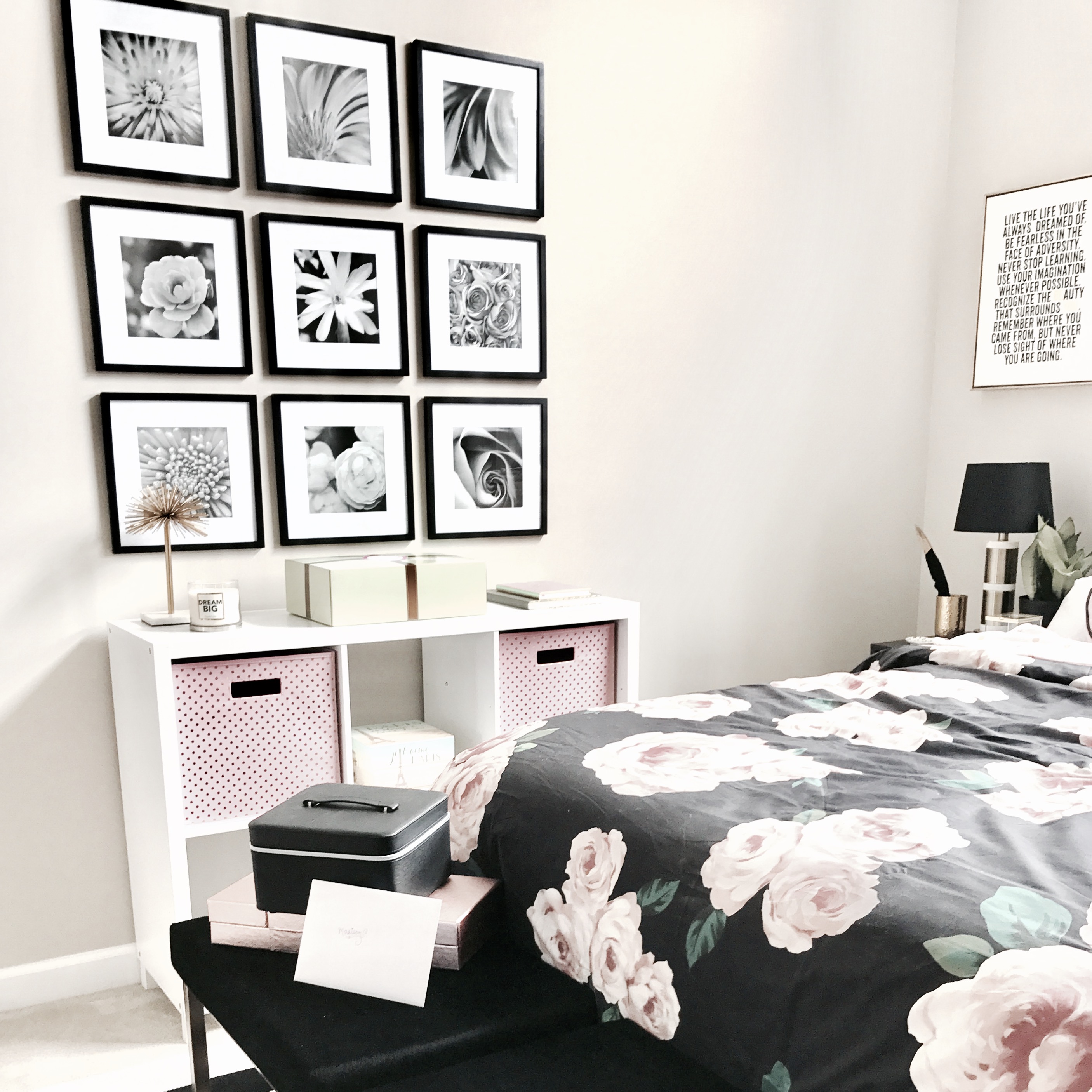 Gallery walls are so beautiful but can be tricky to install!  Luckily, this gallery wall (available on the shopping list below!) comes with a template that makes installation a breeze!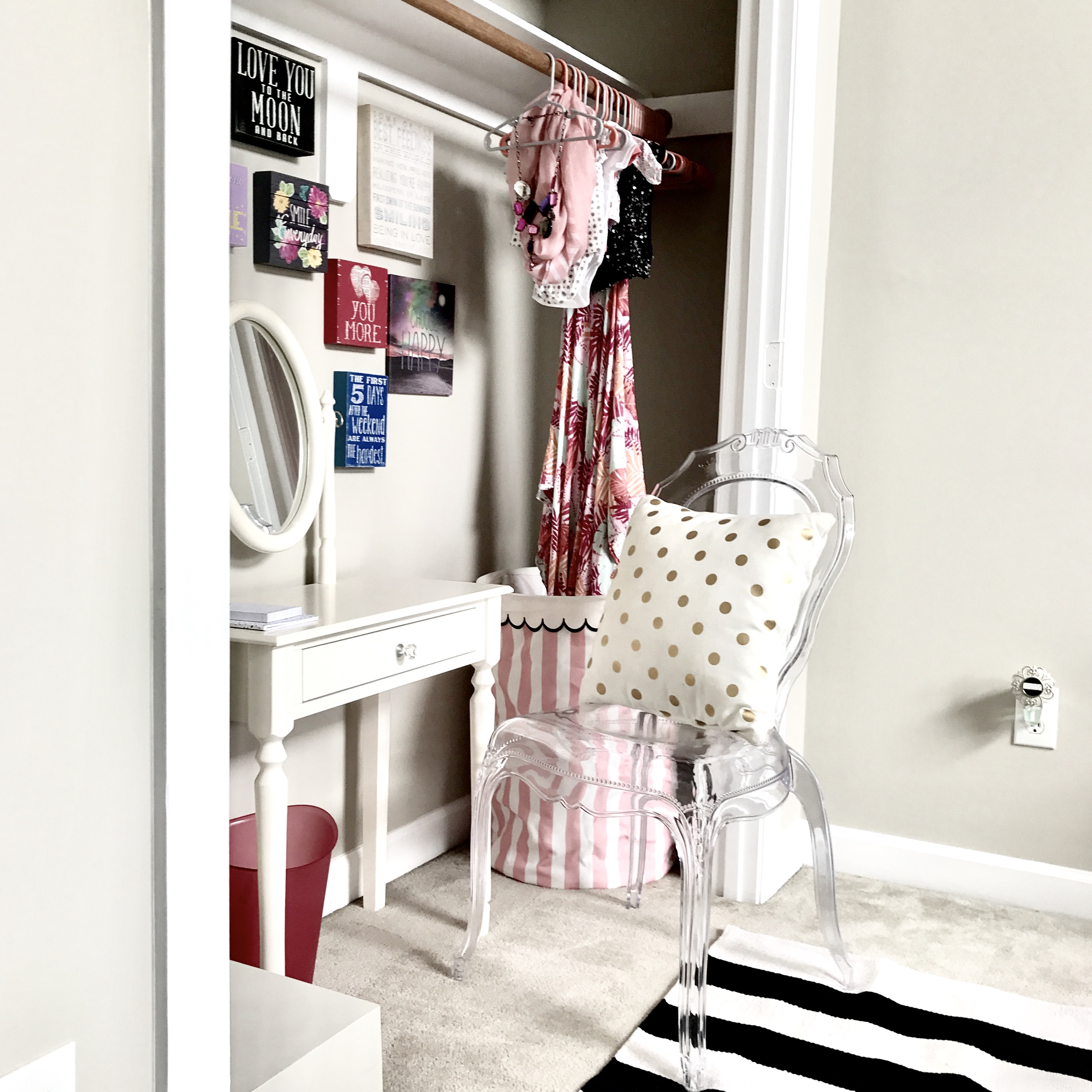 This fun vanity area is the perfect spot for make-up and getting ready!  An inspiration wall of positive affirmations are happy and uplifting.  🙂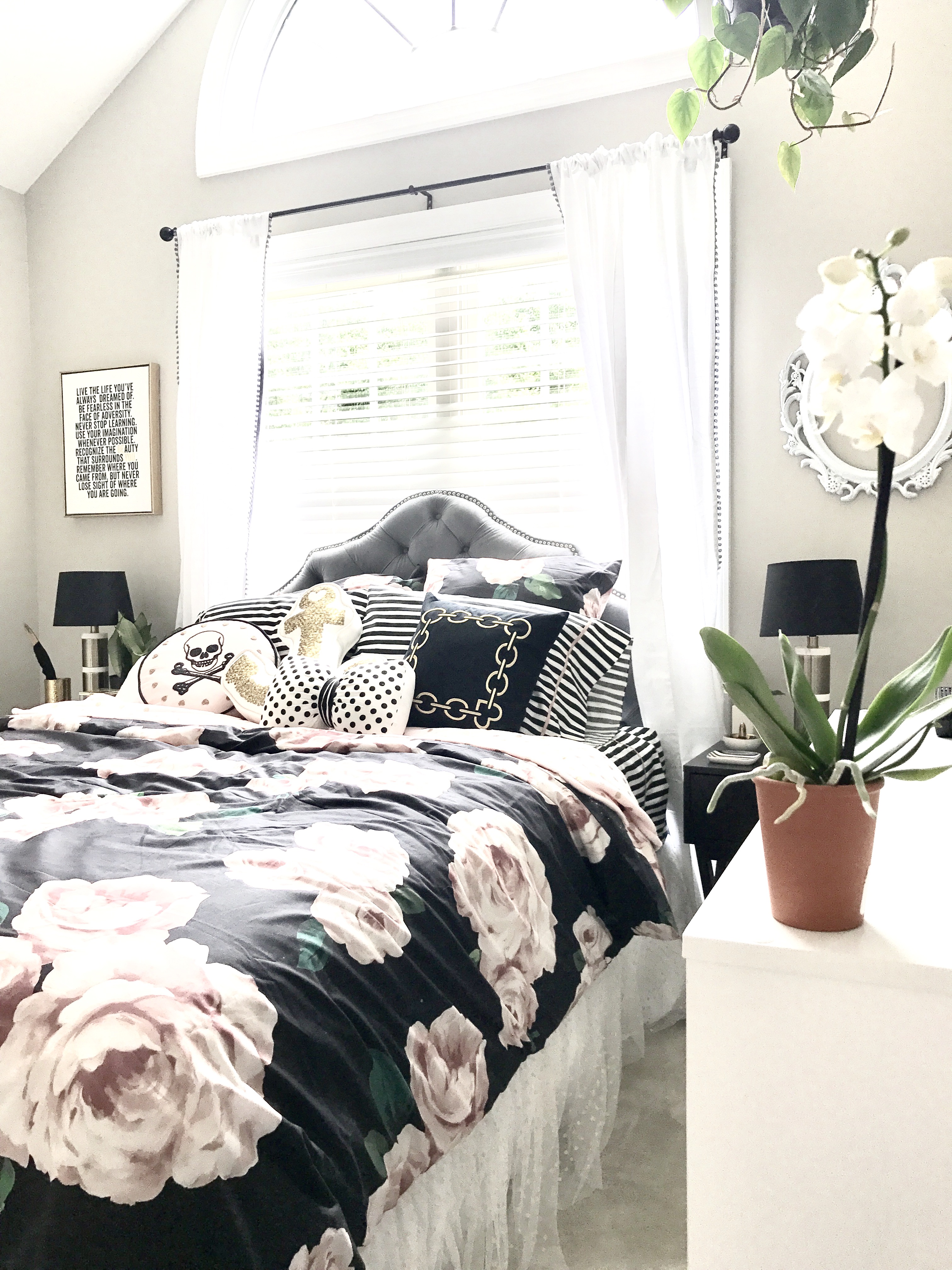 Pro tip:  Add live plants for a pop of green and a fresh look in any space!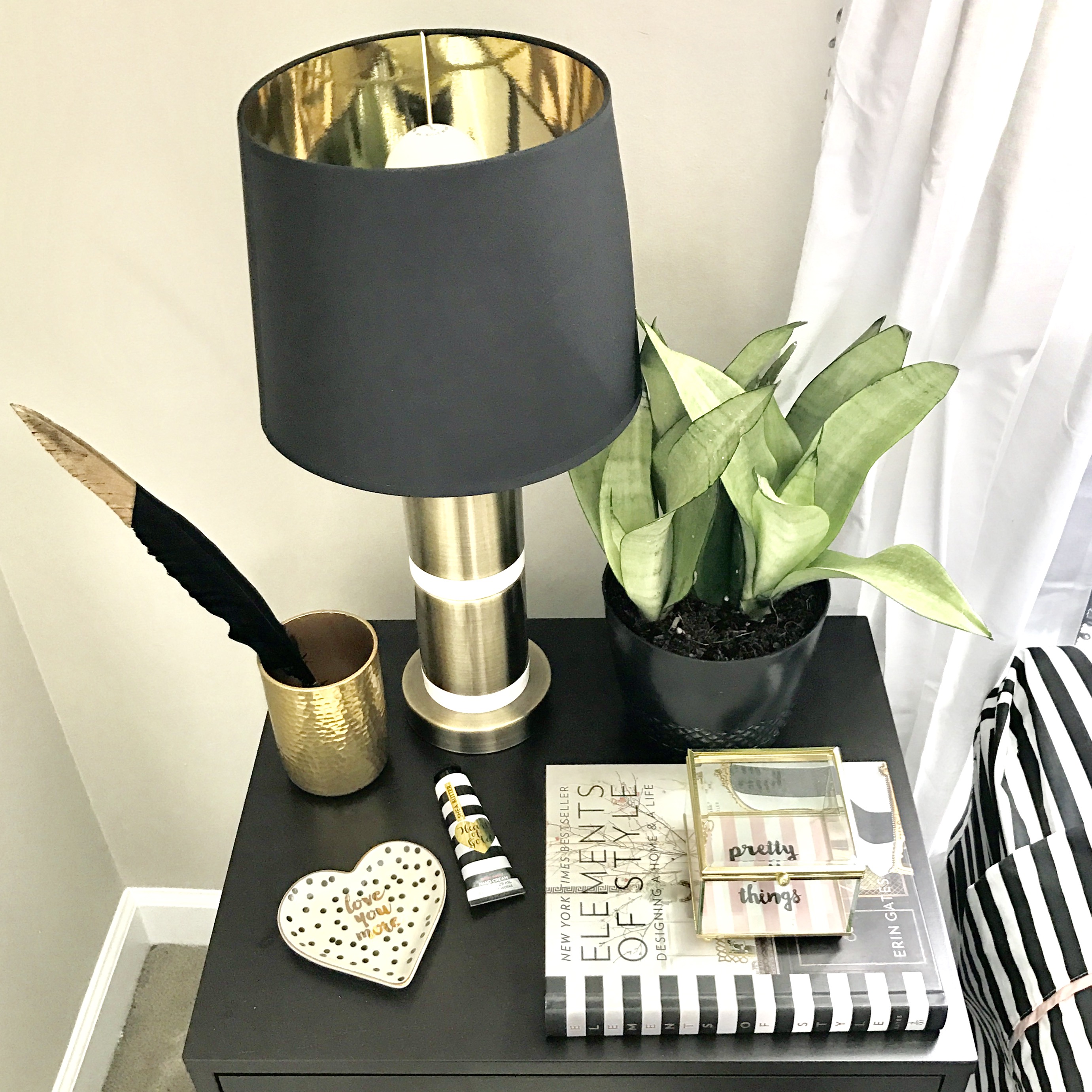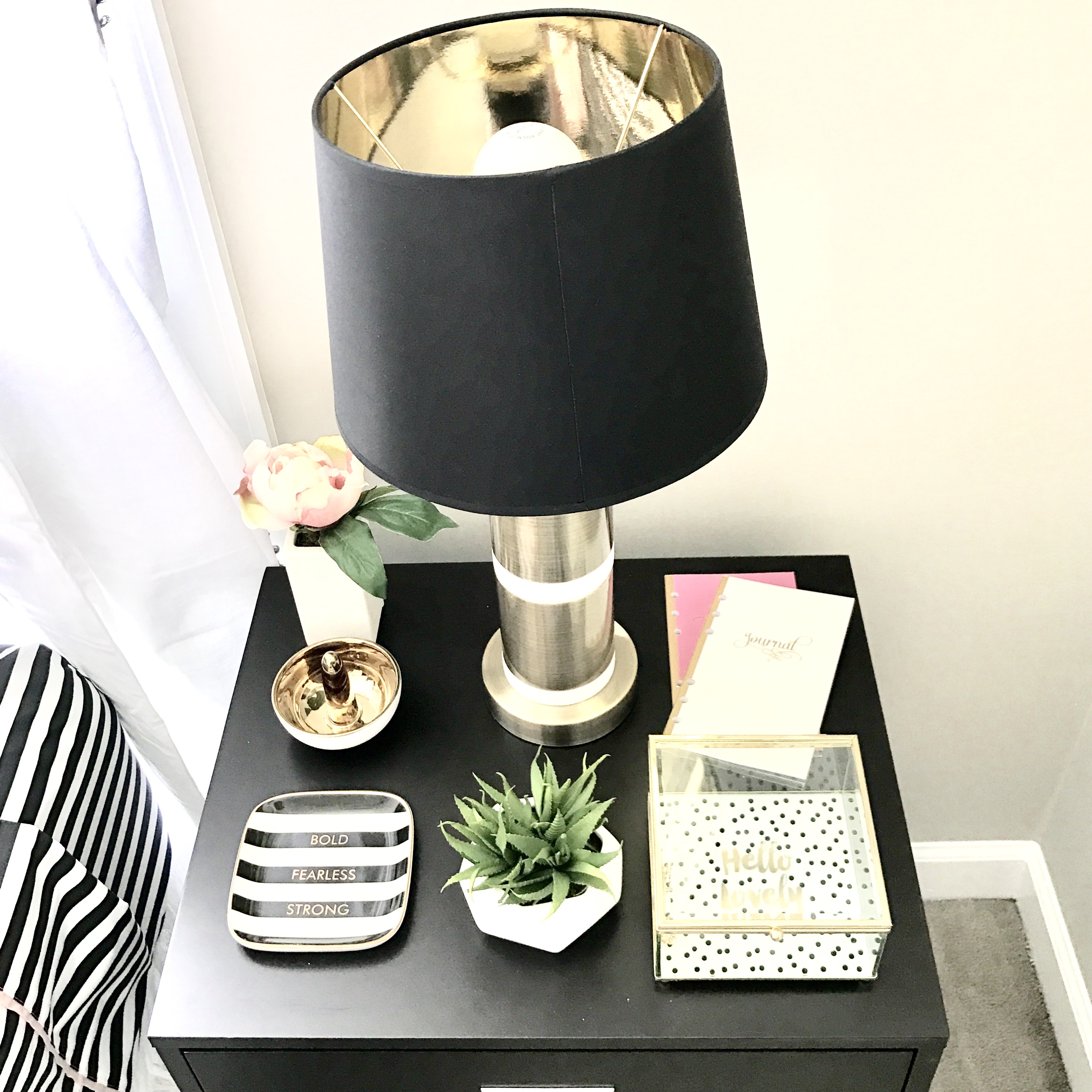 The magic is in the details.  These nightstands are filled with faux plants, trinket boxes, and other fun accessories that bring this design to life.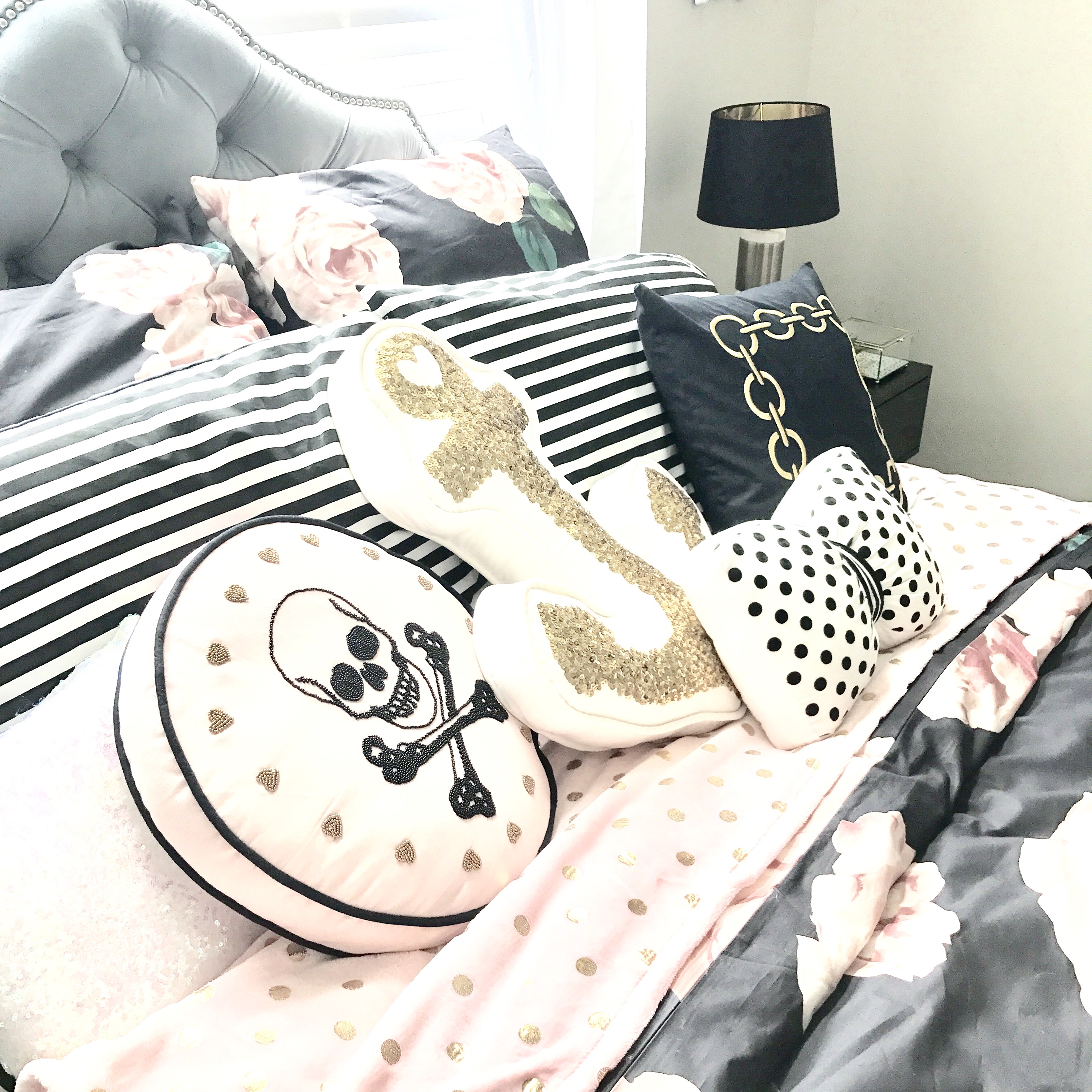 I love pillow styling!  These glamorous pillows from PB Teen are the icing on the cake in this fabulous room.
Disclaimer:  This post may contain affiliate links to products that I love so that I can continue sending out design inspiration and positive energy.  Thanks for the support and love. Namaste!