I don't know about you, but I absolutely LOVE a beautifully-designed outdoor space.  Ever since I was a little girl watching The Secret Garden, I have dreamed about outdoor spaces with hidden garden gates and tons of lush, colorful plants.
There's something about  sitting in a beautiful outdoor room with the sun shining above and the quiet rustle of butterflies fluttering by that makes everything right with the world.  Whether you have your own secret garden or a small patio in a city apartment, you can bring the magic of nature to your home by making the most of your outdoor space.  Here are my top tips for creating an epic outdoor space–beyond the garden gate or just outside a patio door.
 Tip #1:  Add Comfy Seating
Comfy seating is a crucial part of any epic outdoor space.  Even if you only have space for one cozy chair and a pouf, make sure that your seat is comfortable enough to take a catnap in the afternoon sun.
Tip #2: Bring in a Pop of Color
Even those who love monochromatic, neutral interiors can have a bit of fun with color in an outdoor space.  If you are afraid of a big commitment, try adding a planter and filling it with annual flowers with color.  Some of my favorite spring/summer annuals include:
Tip #3:  Plant some herbs!
Herbs are a quick and easy way to add a yummy scent to your outdoor space.  They are also extremely easy to maintain and as a bonus, can brighten up your summer recipes!  Some of my favorite herbs that always find their way to my outdoor spaces include:
Last summer, I stumbled upon chocolate mint at a local plant nursery.  If you happen to find this herb, BUY IT IMMEDIATELY!!  It is delicious as a tea and when chewed with a sweet stevia leaf, it tastes like a piece of chocolate mint candy.  So fun!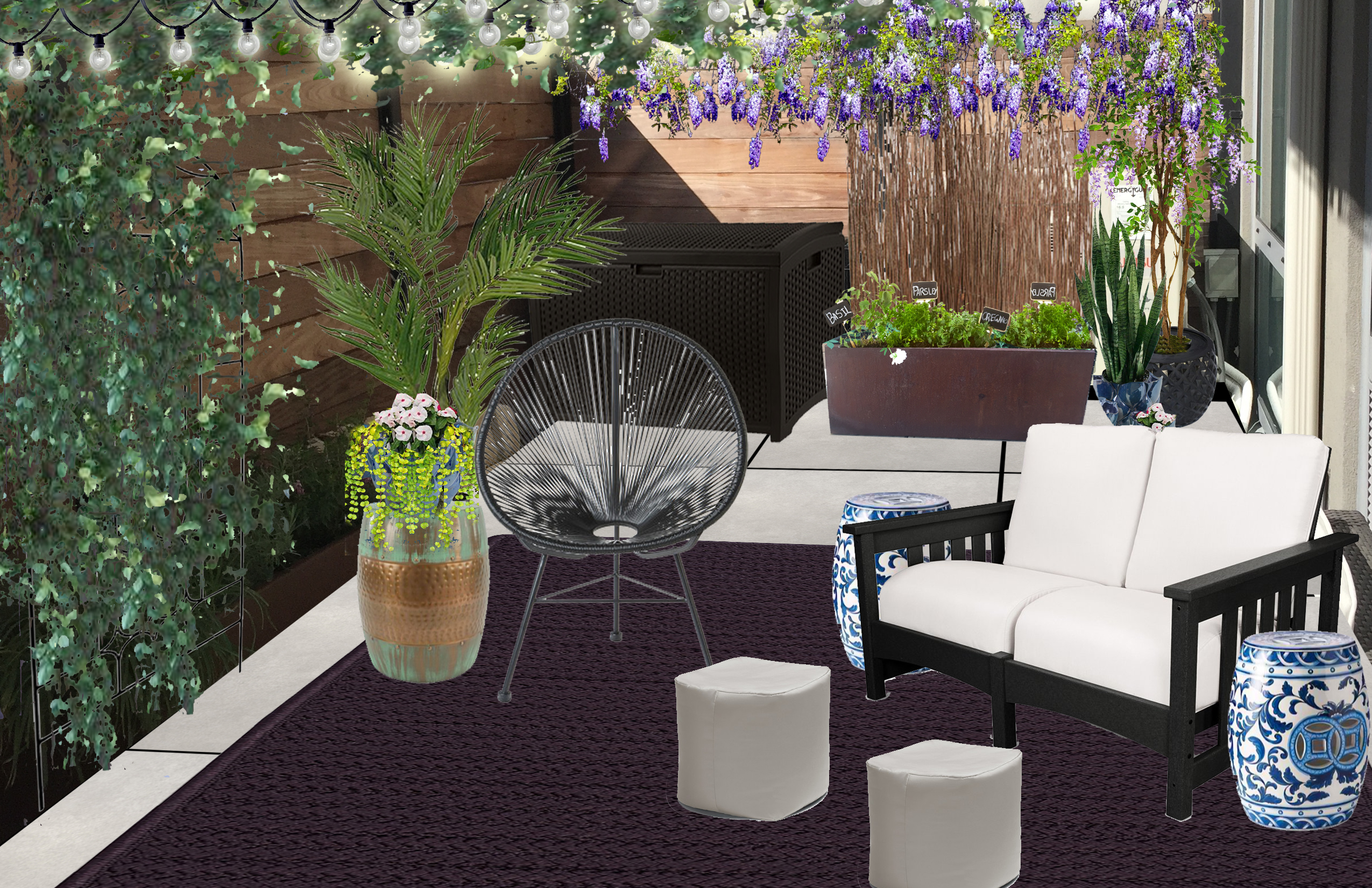 Tip #4:  Layer Textures
To really cozy up your outdoor space, layer accent pillows and a throw blanket to make your patio or outdoor room feel like an extension of your home.  An outdoor rug is great to warm up the floors and bring focus to your outdoor room.
 Tip #5:  Get a little Hygge
Take a tip from the Danish and get into a hygge state of mind.  Hygge essentially translates to "something nice, cozy, safe and known."  One of the quickest ways to make your space feel more "hygge" is to light a candle.  Serve double-duty with a citronella version to ensure that no pesky bugs interrupt your peace of mind.
Disclaimer:  This post may contain affiliate links to products that I love so that I can continue sending out design inspiration and positive energy.  Thanks for the support and love. Namaste!