Happy 2018 everyone!  How is everyone doing?  It's been a while since I have blogged, but I am ready to get things rolling, and I have lots of exciting content to share with you this year.  2017 was filled to the brim.  Milo and I have a new baby on the way (our first–so exciting!!!), plenty of work opportunities to keep us both busy, and the beginnings of a huge home renovation to get ready for baby (more on that later).  With that said, I have decided that one of my resolutions for this year is to blog more and share more shoppable designs with you guys–yay!!  Today's look is a contemporary boho bedroom.
Here in North Carolina it is biting cold right now, which of course has me thinking about plants and everything green and happy (plants, gardens, and the like are totally my happy place).  Check out my tips below for how to achieve this oh-so-popular look, and feel free to share your thoughts and your own personal resolutions with me below–I'd love to hear from you! 🙂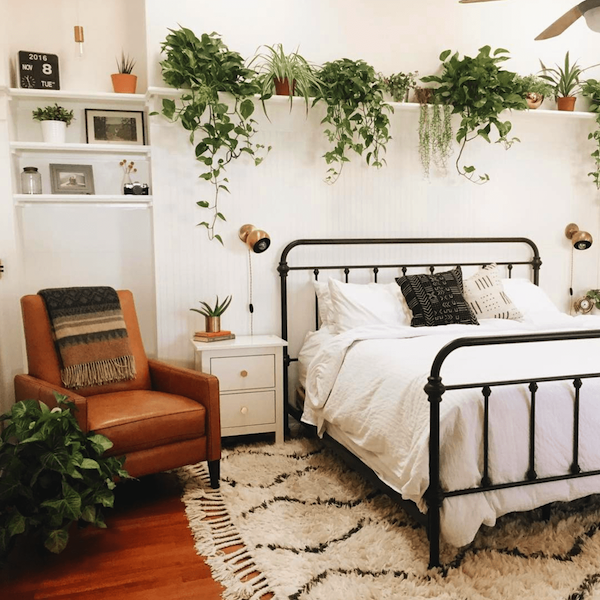 Source: Branchabode/Instagram
Tip #1:  Don't be afraid of texture!
I can't stress the importance of introducing a variety of textures to give your bedroom a layered, collected look.  Think warm shag rugs, a variety of accent pillows, and cozy throw blankets for a start.  I also love playing with fun textures on the walls, such as the amazing Juju hat in the design board below.
Tip #2:  Add a pop of green
If you know me, you know that I LOVE interior plants (and exterior too for that matter!)  There are so many benefits to adding plants to your home (if you are interested in reading more on that, check out my article on the power of plants here).  Plants purify the air, add texture and color, and are pretty much an essential part of any boho look.  Afraid of live plants or lack a green thumb?  Try some of the amazing faux plants on the market today.  You won't get the full benefit of live plants, but you'll benefit from the added color and beautiful aesthetic they add.  BIG BONUS:  They are maintenance-free! 😉
Tip #3:  Incorporate Warm Woods
One thing you will notice about boho designs is that they exude warmth.  One way to achieve warmth is by choosing warm woods such as walnut for some of the furniture pieces.  I love the Dalila Solid Wood Platform Bed in this design board, and it is a total bargain buy at less than $300!
I put together a "Get the Look" design board to share with you all so that you can get this look in your own home, and I'm so excited that the entire design is purchasable via the shopping list at the bottom of the post.  Please keep in mind that this post contains affiliate links to products, and if you purchase, I will receive a small commission to help keep the doors open here at The Karma Corner.  I hope you all enjoy! Namaste!